Man Law BBQ Chicken Wing Rack,
4 April 2014
---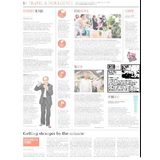 THERE'S no need to come unstuck when trying to cook chicken on the barbecue. This handy rack made of heavy -gauge stainless steel will
hold up to 12 drumsticks, wings or thighs, cooking evenly without flipping or turning - so no more peeling burnt and sticky specimens off the hotplate. The rack folds flat for easy storage and has a removable grill pan to cook vegetables.
Weekend Australian, Australia
01 Feb 2014, by Michelle Rowe
Travel, page 14 - 46.00 cm²
National - circulation 254,891 (S)
ID 00234840085
---
Shop

Customer Care

Information

Recent Blog Posts
$AUD