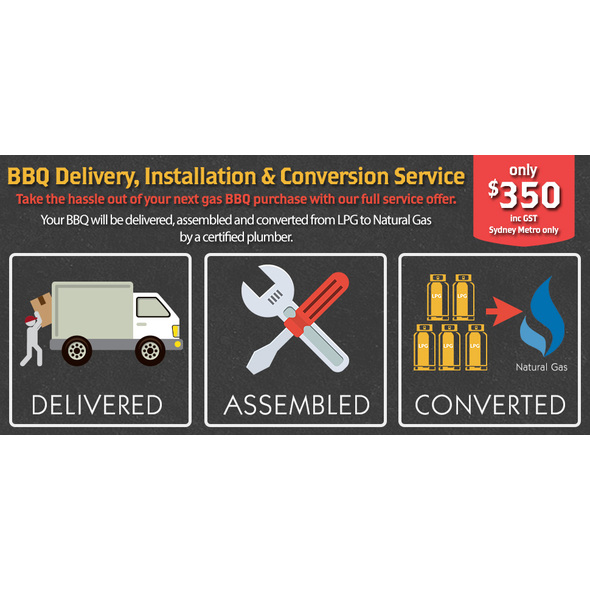 Click image to enlarge
This full service offer includes:
* Sydney Metro Delivery of your new BBQ to a ground floor location (trolley accessable)
* Installation/Assembly of BBQ by a qualified gas plumber
* Converion to Natural Gas (if required).
* Natural Gas conversion kit (if required).
What's NOT included:
* Lifting BBQ up/down stairs
* Any mains gas plumbing work
* Drilling / welding / cutting any access panels to enable connection of BBQ gas hose to wall bayonet socket
* Delivery outside of Sydney Metro Area (Contact us for a Quote)
Average Customer Rating For BBQ Delivery, Installation & Conversion Service:

Click here to write a product review!
New BBQ
When we bought our new barbecue we used your delivery, assembly and conversion service and we are so glad that we did. It took away all our worries, particularly conversion to natural gas, delivery and the many hours it would have taken us to put together ourselves. The installers were great and worked long after knock off time to finish the job. To cap it off, they took away the rubbish. A job well done and worth every cent. Thanks also to the store management who arranged super fast delivery in the first place.

Rating:

---

BBQ Delivery, Installation & Conversion Service
$350.00 Applies to Sydney Metro Area Only


In Stock
Depends on Plumbers Availability (Usually within 1 - 2 Weeks)
Add To Wishlist
You might also like...