Everdure Barbeques and Outdoor Kitchens
---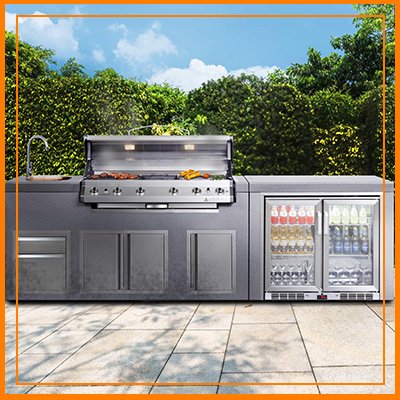 If you have seen celebrity chef Heston Blumenthal's face all over Everdure BBQ's then you would have noticed the transition from their traditional barbeques to the new range which was designed in collaboration with Heston and his team.
This has opened up some great buying opportunities to purchase the outgoing and discontinued BBQ's and outdoor kitchens at a massively discounted prices. Under the agreement with Heston's team, all Everdure BBQ's must be cleared out to make way for the new Heston BBQ range.
One example of the heavy discounting is the Everdure 120cm Alfresco Rangehood. This was selling for RRP $2,199.00 whereas now it has been discounted a whopping 55% down to $995.00. Not dissimilar is the Sunbury 4 Burner Outdoor Kitchen in Natural Gas which has come down a massive 54% from $3,235.00 down to $1,499.00.
Now is a great time to take advantage of these massive savings as once they are gone, they are gone for good. New models will be available in the future under the new Everdure by Heston brand, but at the prevailing rrp prices.
For the eChurrasco BBQ lovers unfortunately this popular barbeque has now sold out, but if you already have one of these great combo gas/charcoal BBQ's then for a limited time we still have stock of the suitable spit rotisseries, bbq covers, fish grills, sizzling plates, roast hood and Asador Rotisserie kits.
There are still amazing savings to be made on the traditional Everdure barbeques like the Ashburton 6 Burner BBQ was RRP $1,900.00 now $1,380.00 (27% off) for a limited time unless sold out.
Or you can come in and make an offer on any of the display models as everything must go to make way for the new range.
---
---