Gasmate Gas Pizza Oven...Hot Off The Block…
---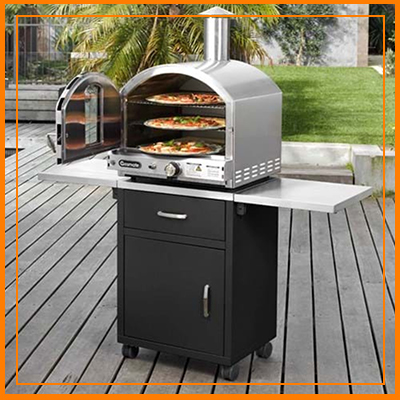 AS SEEN ON THE BLOCK (Channel 9)...in Chantelle & Steve's terrace…

The Gasmate Gas Pizza Oven – Stainless steel model (PO110) featured on The Block, together with Deluxe Pizza Oven Cabinet (PS110). This stunning Gasmate Pizza Oven is the original and the best gas pizza oven on the market. It will heat up and is ready to go in under 10 minutes.

You can cook a variety of food in the oven – from pizzas, with a delicate wood fired flavour, to a beautifully cooked roast dinner or even your favourite bread.

You can cook up to 3 pizzas at a time and features a convenient viewing window, temperature gauge and light, just like an indoor oven.

You will love the Gasmate Pizza Oven. Get it and the range of Pizza cooking accessories, all from The BBQ Store, while it's hot hot hot on The Block!!
---
---
Shop

Customer Care

Information

Recent Blog Posts
$AUD