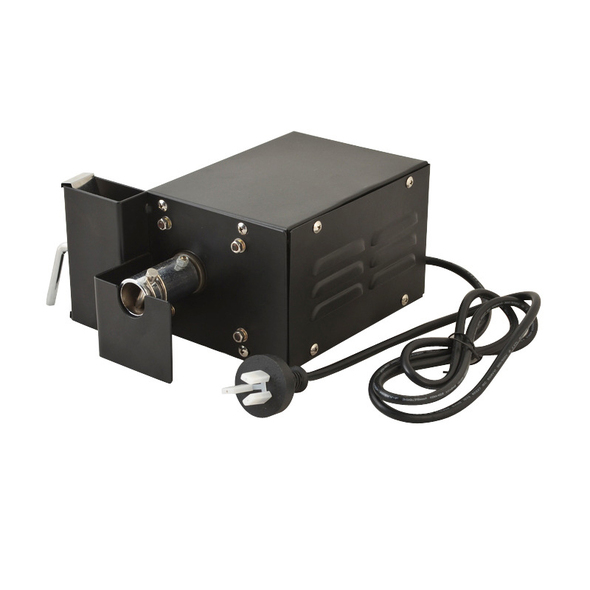 Click image to enlarge
The heavy duty 40kg spit motor is a high powered factory tested grill barbecue rotisserie spit motor that is designed to promote easy turning of the spit to ensure all the meat is cooked at the same time. This outdoor BBQ grill spit motor is able to turn up to 40 kgs of balanced meat and offers a 240V power source that can handle up to 5RPM which enables for even cooking that is ready to serve to guests in the shortest amount of time possible. This spit motor is able to suit skewers up to 22mm, and can easily handle some of the most demanding cooking sessions that may require the cooking of whole lambs, pigs, and goats in a timely fashion. Highly well built, this barbecue grill motor can power the spit for a long time, and is suitable for use where larger get-togethers may require large amounts of meat to be cooked. Featuring direct drive technology, this rotisserie spit motor is able to spin the skewers without causing too much wear and tear to be inflicted, and comes complete with a fan that helps to keep it from over-heating after being used for a long period of time.


Australian Tax Invoice provided and 12 months warranty included

Also available: skewers, leg brackets, counter balances, prongs, back braces, gyro discs to suit, please contact us for more details.


Please note that pick up in Sydney is available from:
Unit 6/12 Lyn Parade, Prestons 2170 (near Liverpool)
Enquiries please call: 1300 880 685 or (02) 9608 0802
The 40kg Capacity BBQ Spit Rotisserie Motor is a powerful and user friendly outdoor motor which is designed to provide powerful rotation of your spit for cooking meats evenly. This rotisserie motor comes with a powder coated seel construction which can withstand against wear and tear over time. It also features a 40kg turning capacity when used together with a Counter Balance Weight, and it is suitable for use with round skewers to help create mouth-watering meals.
Motor Suits: Round Skewer Shaft

Skewer Diameter: Up to 22mm in Diameter

Power Output: 220-240V / 25W / 50Hz

Turning Speed: 5RPM (Revolutions per Minute)
Be The First To Review This Product!
Help other The BBQ Store Pty Ltd users shop smarter by writing reviews for products you have purchased.
40kg Capacity Heavy Duty Rotisserie BBQ Spit 240V Motor - HDE-3074
Easily turns up to 40kgs of balanced meat (SKU: HDE-3074
You might also like...