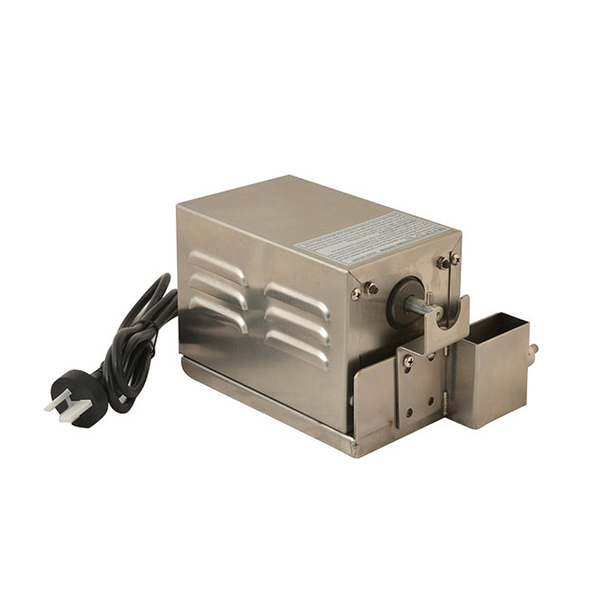 Click image to enlarge
The stainless steel heavy duty spit motor with pin is a quality and reliable spit motor that is designed to offer easy rotation of balanced meat up to 40kgs at a time to ensure that they are cooked evenly without burning the outer layer of meat. Factory tested at 40kgs, this rotisserie spit motor is constructed from stainless steel and is designed with an inbuilt cooling fan to help reduce it from becoming over heated when cooking for long periods at a time. Designed to turn at 5RPM, this spit grill barbecue motor delivers a 220-240V / 25W / 50Hz direct drive power capacity and is suitable for skewer shafts with a 5mm slit allowing for optimal rotation when used in the most demanding cooking situations. With its attractive appearance, this outdoor BBQ grill spit motor not only looks great against your grill barbecue for an aesthetically pleasing appearance, it can also promote high powered operation that allows for reliable, optimal cooking time to ensure it is ready to serve in the shortest amount of time.


Australian Tax Invoice provided and 12 months warranty included

Also available: skewers, leg brackets, counter balances, prongs, back braces, gyro discs to suit, please contact us for more details


Please note that pick up in Sydney is available from:
Unit 6/12 Lyn Parade, Prestons 2170 (near Liverpool)
Enquiries please call: 1300 880 685 or (02) 9608 0802
The 40kg Capacity 304 grade Stainless Steel BBQ Spit Rotisserie Motor is a powerful and user friendly outdoor motor which is designed to provide powerful rotation of your spit for cooking meats evenly. This rotisserie motor comes with a high strength stainless steel construction which can withstand against the weight of the meat and the heat of the barbecue. It also features a 40kg turning capacity, and is suitable for use with slit type skewers to help create mouth-watering meals.
Motor Suits: Square Skewer Shaft Skewer with 5mm Slit

Power Output: 220-240V / 25W / 50Hz

Motor Turn Speed: 5RPM (Revolutions per Minute)
Average Customer Rating For 40kg Stainless Steel Spit Motor (With Pin) - Suit Slotted Skewer Shaft - SSS-3074:

Click here to write a product review!
Speedy Delivery
Afternoon The product has been a perfect part of our new Spit Roast and was delivered to us the very next morning after purchase. The motor has been used a few times now and would recommend this part to anybody looking for good motor. Regards

Rating:

---
40kg Stainless Steel Spit Motor (With Pin) - Suit Slotted Skewer Shaft - SSS-3074
Capable to turn up to 40kg of meat (SKU: SSS-3074)

You might also like...