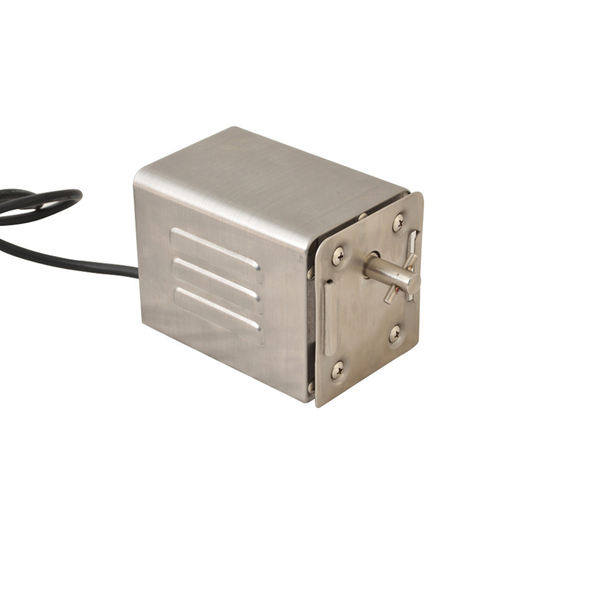 Click image to enlarge
The A40 S/S Rotisserie BBQ Spit 240V motor with pin is a professional and user friendly barbecue spit motor which is designed to provide a convenient method of rotating your rotisserie easily for even cooking of your meat. This rotisserie comes with a 30kg turning capacity and is designed with a 240V motor rating. It also features a powerful setup and is constructed from high strength stainless steel for added resistance against heat.

Looks great and works even better!!

To add mounting brackets, skewers, leg brackets, counter balances, prongs, back braces, gyro discs to suit, please contact us for more details.



Please note that pick up in Sydney is available from:
Unit 6/12 Lyn Parade, Prestons 2170 (near Liverpool)
Enquiries please call: 1300 880 685 or (02) 9608 0802
This motor can fit our Stainless Steel BBQ Big Spit and our Chicken rotisserie BBQ

The A40 stainless steel motor with Pin can run 30kgs at approx 2.7RPM
High demand motor comes with 5mm diameter Pin to suit square shaft or custom made skewer
Stainless steel construction ensures durability and long lasting.
Would suit square slotted style skewer (LSS-3080)
12 months warranty
*This Motor is suitable for slotted shaft as per photo which is a guide only of the shaft (No coupling is included with this Motor)

Average Customer Rating For A40 Stainless Steel Rotisserie BBQ Spit 240V Motor with Pin-30kgs Capacity - SSM-3072:

Click here to write a product review!
Thanks for the great service
Fast delivery and great looking products Cheers Mike

Rating:

great item
this is the second time I have purchased this item for my small rotisserie business which makes my customers very pleased with the end result

Rating:

excellent product
this item is excellent and easy to install will purchace more for my small rotisseries. great company to deal with

Rating:

---
A40 Stainless Steel Rotisserie BBQ Spit 240V Motor with Pin-30kgs Capacity - SSM-3072
Capable of turning up to 30kgs of meat, SKU: SSM-3072

You might also like...