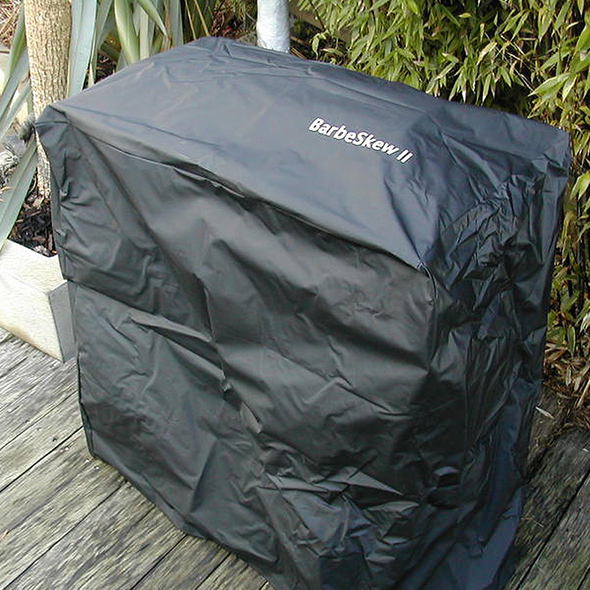 Click image to enlarge
BarbeSkew II Cover
The BarbeSkew Cover II from The BBQ Store is a reliable protective cover which is manufactured to provide protection for the Charcoal BarbeSkew II grill barbeque. Featuring a lightweight size, this barbecue cover is able to be easily handled, folded, and stored when the BarbeSkew II is in use, and is designed to offer a neat fit when placing over the top of the outdoor BBQ grill when not in use. Highly constructed from strong and heavy duty materials, this barbecue cover is able to offer high protection against some environmental elements including rain, heat, and wind, and comes with some weatherproof properties that allows for it to be used in locations where the BarbeSkew II is exposed and can't be placed undercover. The attractive and black sleek appearance allows for your BarbeSkew II grill barbeque to look great while both in use and not in use, and provides full cover over the whole grill all the way down to the ground to ensure the grill barbeque is well protected at all times.
PLEASE NOTE: Do not place cover over the BarbeSkew II when the barbecue is warm or hot as this is a fire hazard.
Please note that pick up in Sydney is available from:
Unit 6/12 Lyn Parade, Prestons 2170 (near Liverpool)
Enquiries please call: 1300 880 685 or (02) 9608 0802
BarbeSkew II Cover
66cm (Length) x 44cm (Width) x 86cm (Height)
Be The First To Review This Product!
Help other The BBQ Store Pty Ltd users shop smarter by writing reviews for products you have purchased.
BarbeSkew II Cover, Very Durable UV and Water Resistant - CBC-2111
BarbeSkew II Cover

In Stock
Pre-Orders usually dispatch after 3 working days (Depending on Stock Availability)
Add To Wishlist
You might also like...