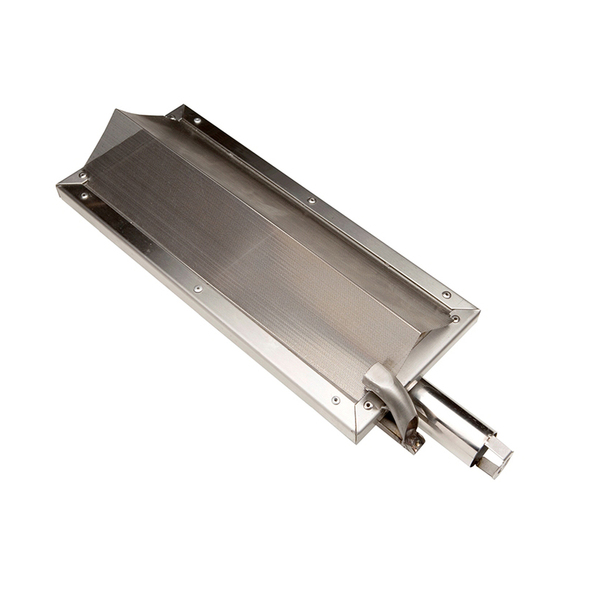 Click image to enlarge
The Beefeater Stainless Steel Infrared Burner is a powerful and user friendly barbecue burner which is designed to easily fits The Beefeater Stainless Steel Signature Series. This burner is designed to provide heat up to 1600'c within 5 minutes when installed. It is designed to provide ample cooking power and is constructed with high strength stainless steel which provides long term use in a variety of barbecuing and cooking applications.


Please note that pick up in Sydney is available from:
Unit 6/12 Lyn Parade, Prestons 2170 (near Liverpool)
Enquiries please call: 1300 880 685 or (02) 9608 0802
Nozzle for Infrared Burner Jet Size:
Natural Gas: 1.5mm
LPG: 0.9mm

Gas Consumption:
LPG: 12MJ/hr
NG: 11 MJ/hr

Burner Dimensions:
40cm Long x 11.5cm High x 14cm Wide
Average Customer Rating For BeefEater Stainless Steel Infrared Burner:

Click here to write a product review!
Mesh over burner didn't last
I bought one of these burners just over 12 months ago. Within about 3 months I had my first hole in the mesh that covers the burner, and its now completely fallen to pieces. Its a fine mesh and it just goes brittle and disintegrates. Very disappointed given the promise of long life and the cost. When new it cooked a beautiful steak ... but no longevity. Avoid.

Rating:

---
BeefEater Stainless Steel Infrared Burner
Fits the Stainless Steel Signature Series

You might also like...