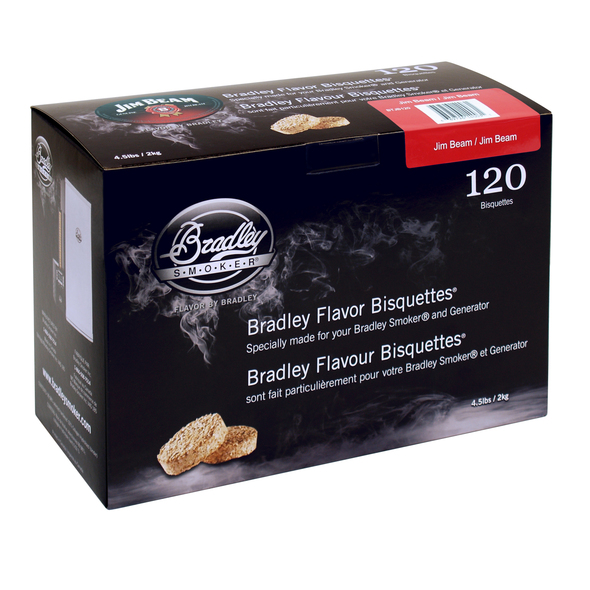 Click image to enlarge

Bradley Jim Beam Bisquettes 120 Pack

The secret to the Bradley Smoker are the Bradley smoker Bisquettes. To produce the bisquettes, hardwood smoker chips are bound together using precise quantities, at controlled pressures and densities. The flavor of the smoke is determined by the variety of smoker wood being burned. When smoker wood burns, the smoke flavor is produced in the initial minutes of the burn. Wood smoking chips or sawdust, burnt for too long, impart a distinct after-taste to smoked food. The flavor would also be affected by fluctuating high temperatures, gases and resins. However, with the Bradley flavor Bisquettes, you get perfect results every time you smoke.
Made from the oak barrels of Jim Beam Bourbon. These bisquettes are so rich in flavor, you can actually smell the bourbon essence still in them. Jim Beam's full, rich flavor is excellent for any meat.
Also available in:
Bradley Jim Beam Bisquettes 24 Pack

Bradley Jim Beam Bisquettes 48 Pack

Also available in other wood flavours (24, 48, and 120 Pack):
Bradley Alder Bisquettes

Bradley Apple Bisquettes

Bradley Cherry Bisquettes

Bradley Hickory Bisquettes

Bradley Maple Bisquettes

Bradley Mesquite Bisquettes

Bradley Alder Bisquettes

Bradley Pacific Blend Bisquettes

Bradley Pecan Bisquettes

Bradley Special Blend Bisquettes

Bradley Whiskey Oak Bisquettes
Please note that pick up in Sydney is available from:
Unit 6/12 Lyn Parade, Prestons 2170 (near Liverpool)
Enquiries please call: 1300 880 685 or (02) 9608 0802
Composition
Bradley Flavour Bisquettes are rendered from the natural hardwoods without additives.Tests held by the British Columbia Institute of Technology have demonstrated that Bradley Flavour Bisquettes produce smoke four times cleaner than smoke produced by identical chippings burnt in a fry pan or burn box.
99.98% natural hardwoods or fruitwoods
0.02% collagen - a natural substance which is used as a binder
Organic Status
Some customers have inquired as to the organic status of Bradley Bisquettes. The question has been referred to the Soil Association, who take it to themselves to arbitrate on such matters. We have been assured that the bisquettes do meet the requirement, although we do not have a formal certification. Customers may refer to the Soil Association with confidence that the bisquette will meet their requirements.
Be The First To Review This Product!
Help other The BBQ Store Pty Ltd users shop smarter by writing reviews for products you have purchased.

Bradley Jim Beam Bisquettes 120 Pack - BTJB120
SKU: BTJB120
You might also like...