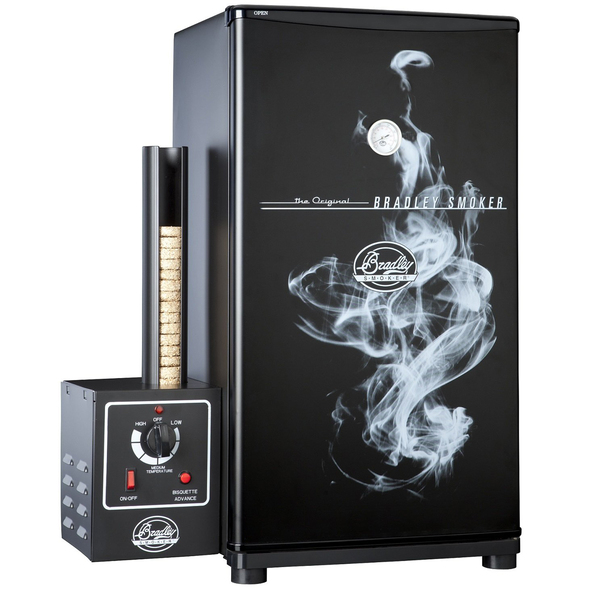 Click image to enlarge
Bradley Original Black Smoker 240 Volt

The Bradley Smoker is a unique smoke house, sold complete with its accompanying smoke generator, in which flavor bisquettes are burned for 20 minutes each so that the temperature does not fluctuate, thus eliminating the high temperature gases, acids and resins that can distort the flavor of smoked food. It is light enough to carry and is about the size of a small fridge.
The Bradley Smoker makes clean tasting food without any aftertaste. While other smokers need to be tended constantly, the Bradley Smoker automatically produces clean, cool smoke for up to 8 hours safely and without intervention.
Additionally, using the independently controlled internal heating element the Bradley Smoker will also hot smoke, or may be used simply as a slow cooker or slow roasting oven. The low temperature cooking environment is perfect for any smoking project and the infra red heater source is also particularly well- suited for drying fruits.
​
Please note that pick up in Sydney is available from:
Unit 6/12 Lyn Parade, Prestons 2170 (near Liverpool)
Enquiries please call: 1300 880 685 or (02) 9608 0802
Specifications:
Interior Construction: Aluminium
Exterior Construction: Powder Epoxy Steel
Internal Cooking Volume: 2288 inches3
Cooking Element Watts: 500
Smoking Element Watts: 125
Power: 240 Volt Model (2 AMPS) ETL & CE Listed
Maximum Temperature: Controllable up to 160C
Minimum Temperature: +/- 35-40C Subject to ambient temperature
Adjustable Racks: 4 with 279mm x330mm cooking space each
Warranty: 12 Months from date of original purchase
Includes: Owners Manual, Recipe Booklet, Rectangular Tray, & Drip Bowl
Excludes: Bisquettes
Product Dimensions:
Exterior Dimensions: 430mmW x 360mmD x 700mmHT with Generator on side
Interior Dimensions: 400mmW x 300mmD x 600mmHT
Smoking Area: 480mm useable smoking area above drip tray
Be The First To Review This Product!
Help other The BBQ Store Pty Ltd users shop smarter by writing reviews for products you have purchased.

Bradley Original 4 Rack Black Smoker 240 Volt
Bradley Original 4 Rack Black Smoker 240 Volt
You might also like...