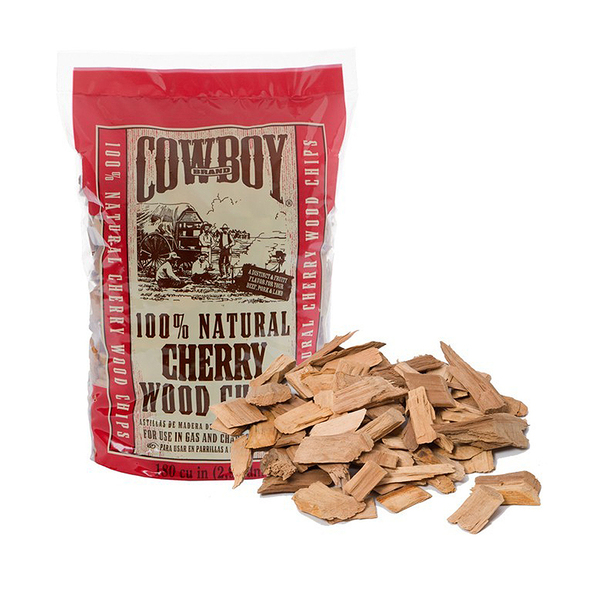 Click image to enlarge
Cowboy Cherry Wood Chips

Grilling over an open fie is the oldest method of cooking known to man. On the western frontier, it was the only way to feed hungry cowhands. Frontier food was prepared over glowing wood embers and was characterized by its hearty flavours and inviting aroma. It was over those traditional fires that "Cowboy Cuisine" was born. Smoke is essential to achieve an authentic, wood-grilled flavour and smoking woods are a great way to add flavour to your backyard BBQ.
Cowboy Cherry Wood Chips are clean and healthy way to add subtle, smoky flavour to your grilled foods

Please note that pick up in Sydney is available from:
Unit 6/12 Lyn Parade, Prestons 2170 (near Liverpool)
Enquiries please call: 1300 880 685 or (02) 9608 0802
Wood Chips

It gives an inviting aroma and an authentic, wood-grilled flavour.

It's clean and healthy.
• Great for gas, electric, or charcoal smokers
• For a subtle smoke flavour, wood chips can be added on top of lump charcoal or briquettes
• For a more prominent flavours, soak the woods chips in water so that they smolder and thereby produce more smoke
Be The First To Review This Product!
Help other The BBQ Store Pty Ltd users shop smarter by writing reviews for products you have purchased.

Cowboy Cherry Wood Chips - 750g - 100% Natural - 51412T
100% Natural Wood Chips
You might also like...