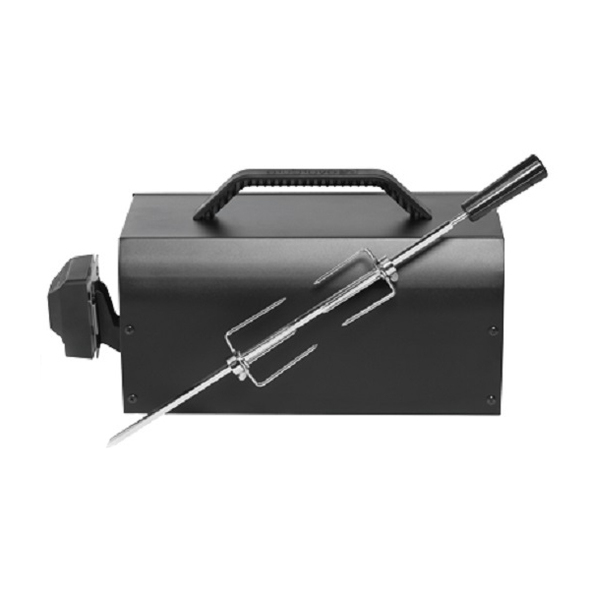 Click image to enlarge
Everdure E-Churrasco Asador

E-churrasco Asador kit includes 240v Rotisserie, 2 Rotisserie Forks and a Roasting Stand, 2 lid positions that provides you the flexibility to adjust the height of the rotisserie. It can cook up to 2 x 1.4kg chickens at once.
Please note that pick up in Sydney is available from:
Unit 6/12 Lyn Parade, Prestons 2170 (near Liverpool)
Enquiries please call: 1300 880 685 or (02) 9608 0802
Average Customer Rating For Everdure E-Churrasco Asador Rotisserie BBQ Set - ECHUSADOR:

Click here to write a product review!
Good roti, bad roasting hood
Got one of these hoping to use it as both roti and roasting hood. Advantages: Roti is great, motor is much quieter than the Weber roti motor. Big enough to fit my rotisserie cage too which is a huge bonus. Overall it performs well and is great value for money. Quirks: Instructions say to use the upper mounting holes for the roti brackets, but these lift the food too high above the charcoal (cooks too slowly), and my roti cage protrudes out the top which prevents the lid from being used. Requires slightly fiddly assembly. Disadvantages: The lid is a loose piece and cannot be used to lift the main body off the bbq. It rests on the body in either high or low position (to control airflow) but you will need oven mitts to lift the body off the bbq if you want to grill afterwards, as it gets very hot.

Rating:

---
Everdure E-Churrasco Asador Rotisserie BBQ Set - ECHUSADOR
Suitable for E-Churrasco BBQ

You might also like...