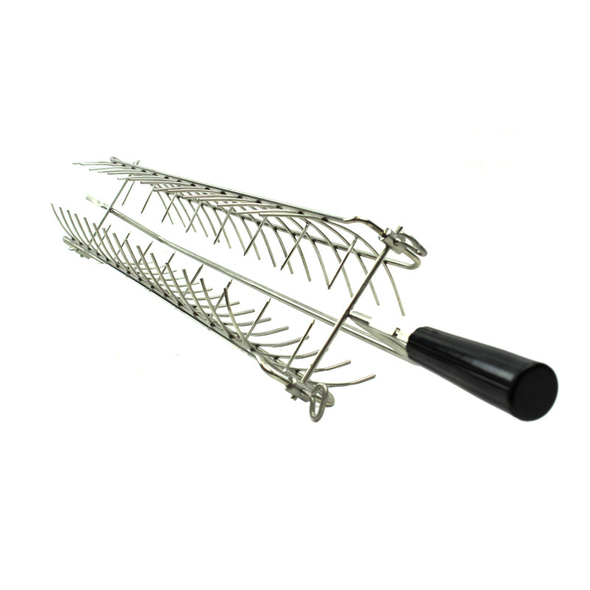 Click image to enlarge
The Stainless Steel Cyprus Grill Fish Skewer rotating cage is an innovative barbecuing cage that is designed to offer easy holding and rotating of meat and food when used in a rotisserie spit fashion. With its grid type and spikes this rotating cage is able to easily hold and evenly cook ribs, fish, chicken, burgers, sausages and more into place for easy spit grilling when entertaining your friends and family.

Ideal for small or large get-togethers where smaller food choices may be wanted for grilling, it provides a great cooking tool for any BBQ grill owner, and is able to be easily cleaned before and after each cooking session to ensure it is ready for use for the next time. With this rotating Grill/Cage, you can make cook fish evenly abd make Portuguese style Charcoal Chicken at the convenience of your own home.
Durable Stainless steel BBQ rotating Grill / Cage with durable Plastic handle.

Sharp spikes inside the centre of the cage to hold food in place

Suitable for cooking: Fish, Chicken Pieces, Seftalia, Spare rips,, Burgers, Sausages etc.

With the unique design, this rotating cage is able to easily be set and connected into place, and can be rotated in a circular movement exactly as that as a normal roasting spit over hot charcoal or flames

This is suitable for the Stainless Steel Cyprus Grill or any other rotisseries spit BBQ within the same measurments as the Cyprus Grill.

Brand new

12 Months Warranty
Please note that pick up in Sydney is available from:
Unit 6/12 Lyn Parade, Prestons 2170 (near Liverpool)
Enquiries please call: 1300 880 685 or (02) 9608 0802

Length: 62.5cm (cage length) and 94cm (including handle)
Width: 17cm
Depth: 2cm - 12cm adjustable
Be The First To Review This Product!
Help other The BBQ Store Pty Ltd users shop smarter by writing reviews for products you have purchased.

Fish chicken meat Skewer Rotating Cage / basket to suit Stainless Steel Cyprus Grill/Souvla BBQ/Rotisserie - FP-8080
Stainless Steel Fish, Chicken Rotating Cage
You might also like...