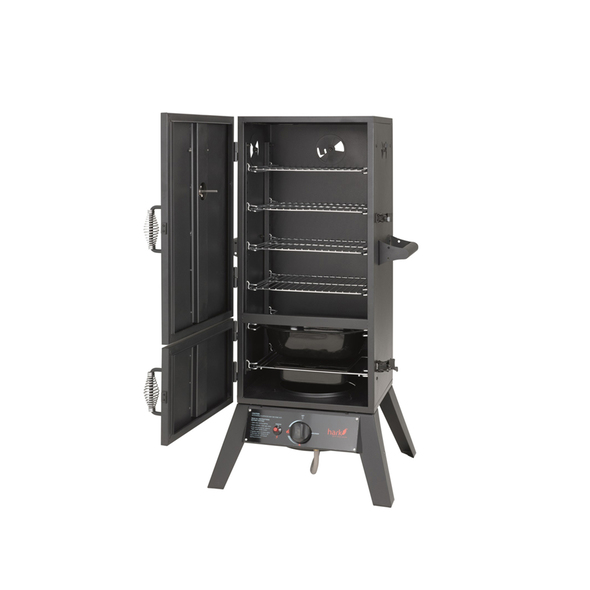 Click image to enlarge
Hark 2 Door Gas Smoker
The Hark 2 Door Gas Smoker enables you to prepare a wide range of professionally smoked produce. Using a standard gas bottle and with minimal effort, you can impress your guests with restaurant quality smoked trout, pulled pork or beef brisket. The options are endless...
Features:
Gas powered smoker
Low pressure hose and regulator included
Two independent doors
Strong construction with a wide and stable leg pattern for extra stability
Four fully adjustable chrome plated shelves
Push start Piezo ignition
Enamel coated wood chip box and water pan
3 dampers for better smoke and heat regulation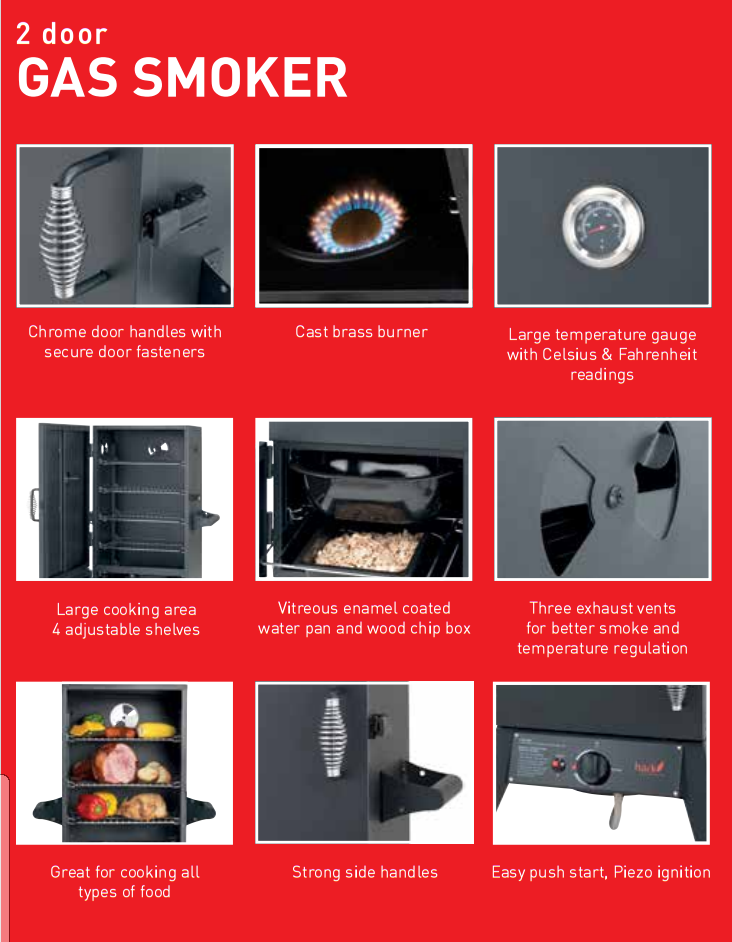 Please note that pick up in Sydney is available from:
Unit 6/12 Lyn Parade, Prestons 2170 (near Liverpool)
Enquiries please call: 1300 880 685 or (02) 9608 0802
Temperature Range:
Minimum Temperature range: 90 - 100 Degrees C
Maximum Temperature range: 140 – 150 Degrees C
Average Customer Rating For Hark 2 Door Gas Smoker - HK0522:

Click here to write a product review!
Hark 2 Door Smoker
I was very happy with the way and time it was delivered. Condition was excellent and works as stated. The only concern I had was the cooking instructions. It didn't come with any. There is actually a Hark Cookbook online. This I found when searching for a menu. It is very good and relates specifically to this smoker and published by Hark. Why I wasn't sent one or even notified there was one available I have no clue. It is a good selling point. Overall though I am very pleased with the product, the delivery, the assistance I received from the selling agent and the cookbook. Cheers

Rating:

You Want A smoker.... This is the one to get
Had enough of charcoal smokers.so decided to go gas. Takes very little time to get up too heat, lot easier controlling heat also The only thing you have to worry about is topping up the water and if you want, put some more wood chips on for that extra smoke flavor. There is plenty of shelf space available. My only complaint is that it doesn't come with hooks for hanging sausage or large ribs. Actually was cheaper than the lighter gauge cheap copy from the large hardware store and BBQ shop. While seasoning ,it maintanied a constant 210 deg Cant wait to do a long slow pork

Rating:

smoker
recently brought this and used for the first time and must say really good smoked some pork and it was really tasty ham

Rating:

Great Little Smoker
Great little smoker, easy to assemble and super fast delivery

Rating:

---

Hark 2 Door Gas Smoker - HK0522
SKU: HK0522

You might also like...