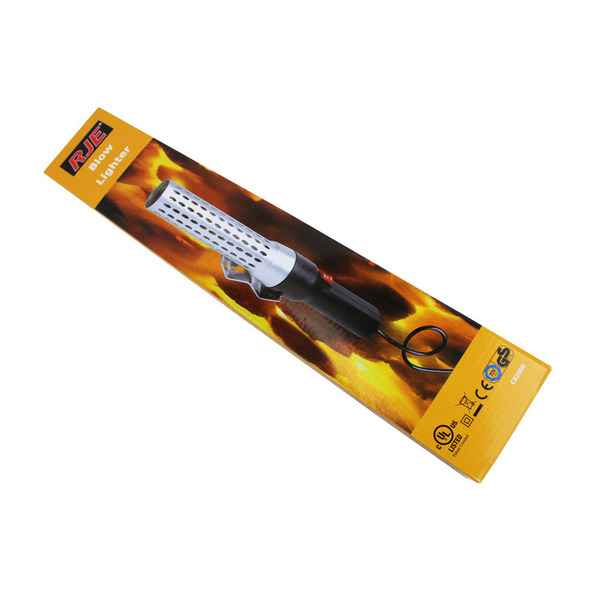 Click image to enlarge
The Hot Air Blower 1500w is a professional and user friendly hot air blower which is capable of providing convenient use for helping to get your charcoal started in a fast and easy way. The Hot Air blower directs a stream of heated air onto the charcoal to provides a fast, safe and chemical free way to start the the charcoal, heat beads or wood of any BBQ, campfire, fireplace or wood stove. With its easy to press 3 setting switch it provides instant operation for added convenience.

This Hot Air Blow Lighter is operated by 240V Australian Mains Power and takes the hard work out of getting the charcoal started.
Just press the 3 way power switch and watch the glowing embers blaze!!!
This air blower operates on 230v~, 50/60Hz, 1500W Australian Mains Power


Please note that pick up in Sydney is available from:
Unit 6/12 Lyn Parade, Prestons 2170 (near Liverpool)
Enquiries please call: 1300 880 685 or (02) 9608 0802
The Hot Air Blower starts Charcoal Glowing Red in under 20secs - Amazing!!!!
You can light 5kg of Charcoal in approx 15mins
No Petro Chemical Fire Lighters Needed!! - Save $$$$
12 months warranty
Average Customer Rating For Hot Air Blower 1500w - Starts Charcoal in Seconds, use with BBQ or Fireplace - CB2000:

Click here to write a product review!
First one didn't work but ...
First one was a dud so we returned it without any problem at all got a new one and they really do the job

Rating:

Hot air coal starter
Great product and at a good sale price. It starts the charcoal within minutes and works a treat.

Rating:

---
Hot Air Blower 1500w - Starts Charcoal in Seconds, use with BBQ or Fireplace - CB2000
Get the charcoal started the Fast Way

You might also like...