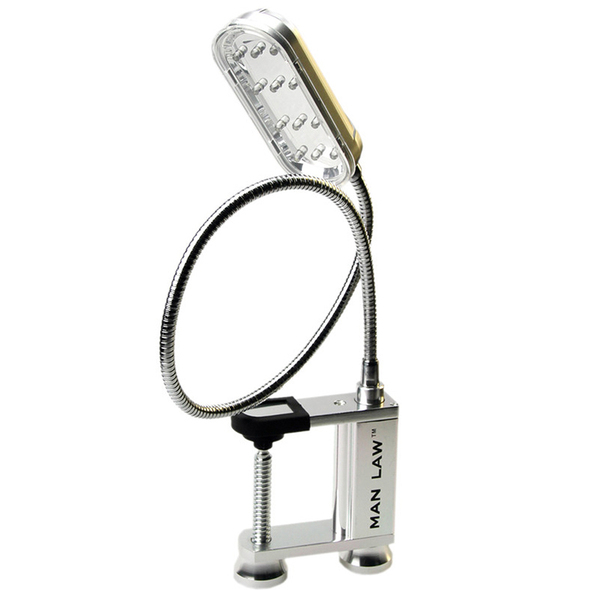 Click image to enlarge
MAN LAW #5: Vegetarianism is to be encouraged, as it leaves more meat for us normal people.

What are the two essential ingredients for a night-time BBQ? Obviously one is meat, the second is something to see it with. A few more man laws: all men are masters at the art of the BBQ. No man asks for directions either to where he is going, or to what he is doing. On any given weekend, you can see these two laws combined when a man tries to BBQ a piece of meat at night by the light of the fire.

MAN LAW understand this primal male behavior and in their quest to create the ultimate range of premium BBQ tools, have provided the perfect BBQ Grill Light. This BBQ tool is so unshamedly masculine and functional that no man would want to be without it.

The goose-neck light is constructed from aluminum with a long and fully flexible arm of up to 58cm. It has a adjustable screw clamp and you can choose a magnetic or non-magnetic base. It is heat and weather resistant and features 12 super-bright LED bulbs that will shine for hundreds of thousands of hours. Just one thing though - now that you can actually see what you are doing, there's no excuse to burn the meat.

BBQ Grill Light: MAN-Y1



Please note that pick up in Sydney is available from:
Unit 6/12 Lyn Parade, Prestons 2170 (near Liverpool)
Enquiries please call: 1300 880 685 or (02) 9608 0802
Average Customer Rating For Man Law BBQ Grill Light:

Click here to write a product review!
Bugg Light
No more hanging torch over BBQ and no more overdone steak, crays, prawns, snags...... This light really is that good, easy to mount using clamp or magnetic base in our case we have a BUGG BBQ so a bit awkward to use the magnetic base so we just use the clamp. The unit is very well built takes 3 AAA batteries and light output is good. Can really recommend this product.

Rating:

Baba grill light
This bbq grill light was bright as a red head match.it was like throwing $50.00 down the toilet.and the light went straight into the rubbish bin.steer clear of this product and use a torch instead,very disappointing.

Rating:

---
Man Law BBQ Grill Light
Man Law BBQ Grill Light

You might also like...