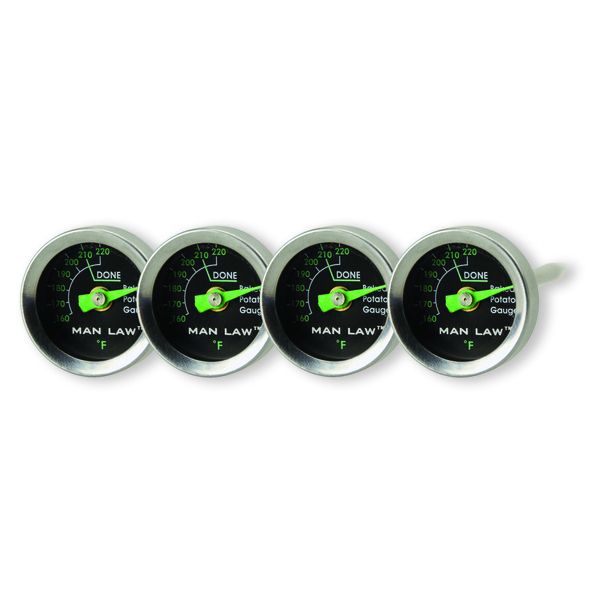 Click image to enlarge
MAN LAW # 10: Flare-ups will be handled calmly and discreetly until such time as flames spread to a national park

BBQs are not just about meat. Barbecued potatoes in foil have to be one of the great comfort foods of the great outdoors. The trick is to cook them properly – and now that's easier than ever with MAN LAW potato gauges with glow-in-the-dark dials. Now you know when your potatoes are ready without having to cut them in half.

The gauges come in four different colours with dial faces and pointers that glow in the dark. They are full stainless steel with a temperature range from 0'C to 300'C and they are dishwasher safe.

Fillings: Your baked potato is only as good as its level of doneness and its filling. Try chopped avocado, tomatoes and flat-leafed parsley for a salsa filling. For a sour cream and sweet chilli sauce, mix up cup of sour cream with 2 tablespoons of sweet chilli sauce and 2 tablespoons of finely chopped fresh coriander.

Potato gauge series with glow-in-the-dark dial MAN-T343POT:
There's notihng worse then cutting into your potato to find it raw in the middle.

Man Law have fixed that issue in an easy way.

Push these little probes into your chats and the pointer on the dial will show you when they are fully cooked!

Its really just that easy!

Dial face and pointer

Glow in the dark

set of 4

Best of all throw them in the dishwasher when you're finished!

Added bonus, you can use them in your pumpkin too!

Use them in the oven as well as the barbecue
Be The First To Review This Product!
Help other The BBQ Store Pty Ltd users shop smarter by writing reviews for products you have purchased.
Man Law GID 4 Potato Gauge (MAN-T343PBBQ)
SKU: MAN-T343PBBQ
You might also like...