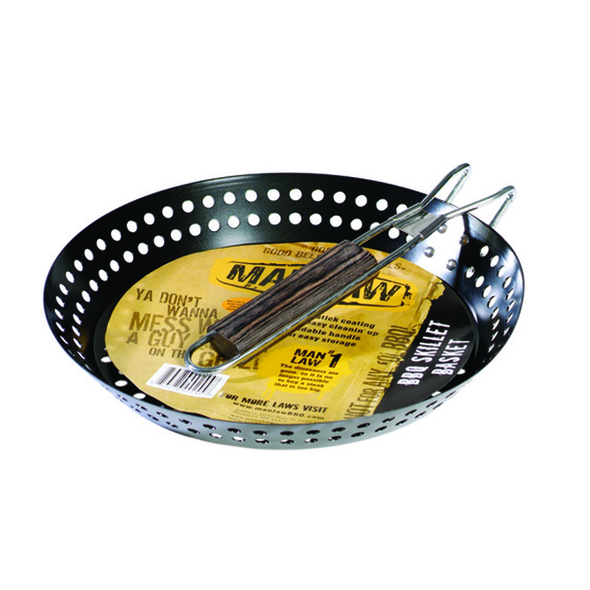 Click image to enlarge
MAN LAW #6 The BBQ chef shall be kept hydrated at all times.

Throwing a thick steak on the barbie is the essence of barbecuing. Smaller food items like prawns and veggies have been ignored to some extent because, as they weren't in close contact with the fire, they just didn't have that flame grilled flavor. Now, thanks to the genius of MAN LAW, the small stuff rates big time on the BBQ - and what's more, it's so easy to cook.

The solution to BBQ-flavored prawns and veggies is the skillt basket. The sheer brilliance of the functional design means the prawns and veggies can be infused with full BBQ flavor as they can now be cooked right over the flame. The 300mm diameter, non-stick, metal perforated skillet basket is ridiculously simple and functional. It even has a foldable wooden handle for easy storage.

A few hints for grilling vegetables: cut the vegetables to roughly the same size and thickness. Marinades are a tasty way to stop the veggies from grying out. For a lemon and garlic marinade, mix up a tablespoon each of olive oil and lemon zest, 2 tablespoon of lemon juice, a teaspoon of minced garlic and salt and freshly ground pepper to taste. Want something a little different? Mix 2 tablespoon each of maple syrup and olive oil, then add a teaspoon of wasabi.

Metal Perforated Skillet Basket, 30cm Diameter: MAN-H3


Please note that pick up in Sydney is available from:
Unit 6/12 Lyn Parade, Prestons 2170 (near Liverpool)
Enquiries please call: 1300 880 685 or (02) 9608 0802
A non-stick pan with holes to let the fat escape and let the smoky BBQ flavour in ... Perfect and soooo easy ... recipe below ...
Chop up an onion, green & red capsicum (deseeded), a big mushroom, 2 garlic cloves, a couple of cooked potatoes (pop some chunks in the microwave for a couple of minutes), dice some of that left over ham & grab some cherry tomatoes too, & if you have a few peeled king prawns - throw them in too (yum)

You'll also need some olive oil, balsamic vinegar, salt & pepper, your Man Law BBQ Skillet & a plastic spatula or tongs, a glass of red or white wine or a beer, & perhaps a couple of crusty bread rolls.

Mix the onion & garlic with a little olive oil, salt & pepper.

Heat up the skillet over the grill on the BBQ to a medium heat - throw in the onion & garlic. Let them sizzle for a couple of minutes. Have a sip of the wine or beer.

Pop in the mushy and the capsicum - cook another minute & toss them about a bit to get them cooking.

If using prawns - clear a bit of room on the 'floor' of the BBQ Skillet & pop the prawns in to cook - turn them so they cook quick & mix them through.

Throw in that ham, cherry tomatoes & cooked potato dice & toss about until all cooked to your liking.

Turn the BBQ off & drizzle over some balsamic vinegar - roughly toss to coat some of the veg.

Grab the plates and serve with a crusty bread roll on the side.

Sit back, relax, enjoy the company & the rest of that wine or beer & enjoy that one-pot-wonder you just made in your Man Law BBQ Skillet.
How do you BBQ those little morsels like prawns, chicken nuggets, etc & veg as well ... & get the same yummy smoky BBQ flavour as you get grilling your steak??
you use the ... Non-stick skillet basket!!
Be The First To Review This Product!
Help other The BBQ Store Pty Ltd users shop smarter by writing reviews for products you have purchased.
Man Law Non-Stick Skillet Basket - 12.2inch Diameter Rounded - Foldable Handle
Premium Wood Handle For Easy Storage
You might also like...