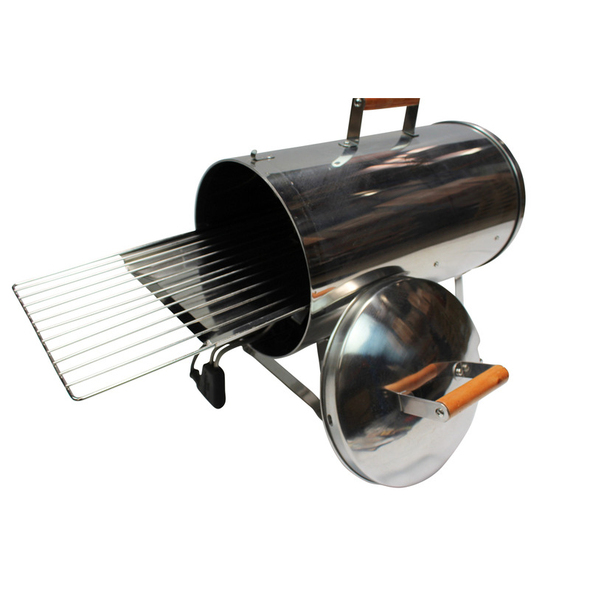 Click image to enlarge
Discover the perfect smoked meal with the new Muurikka Electric Smoker, number 1 in Scandinavia.

The Muurikka S/S Electric Scandinavian Portable Smoker is a high quality roaster, smoker, and grill which is designed to provide easy cooking of all your meat no matter what it is. This portable roaster comes with a stainless steel construction which allows it to easily emit of heat without causing damage to the unit when cooking. It comes available with woodchips to help get your barbecue cooking session started and is great for any roasting, smoking, or grilling session.

It comes with:
Its own protective cover

Two free bags of woodchips (enough for about 10 cookings)

A handy recipe book from the leading Scandinavian Chef Henri Alen
Please note that pick up in Sydney is available from:
Unit 6/12 Lyn Parade, Prestons 2170 (near Liverpool)
Enquiries please call: 1300 880 685 or (02) 9608 0802
Unique taste for fish, meat, sausages, and vegetables

Smoke, roast, or grill

Easy to use and portable - no gas required

Durable and versatile

No mess with a separate removable chip tray, easy to clean

Perfect for the balcony requiring little space

Great health benefits - No oils or marinades required

Intended for outdoor use and is weatherproof

Add wood chips, fish, meat, or sausages, close the lid, plug it in and it's ready

It's highly portable, if you choose to take it camping you can simply source electricity from your caravan or generator

All products are manufactured in Finland to exceptionally high standards by the Opamuurikka company

Warranty – Steel parts are guaranteed for 5 years and the resistor is guaranteed for 1 year. The guarantee does not apply to damage caused by carelessness
Compact size: Length - 57cm, Width - 28cm, Height - 43cm

Weighing: Just 4.5kg
Average Customer Rating For Muurikka Stainless Steel Electric Portable Smoker, Roaster, and Grill - MSS-0875:

Click here to write a product review!
Simple & Effective
We have found using the smoker very convenient, simple and produces excellent smoked food. A couple of things that would improve it further would be, during the manufacturing process, to remove the sharp edges from the stainless steel and provide better cooking information. For example, information is provided relating the cooking time to the weight of the meat being cooked but I find that the cooking time is more related to the thickness of the meat. Smoking salmon fillets takes 25 minutes regardless of the number in the smoker.

Rating:

---

Muurikka Stainless Steel Electric Portable Smoker, Roaster, and Grill - MSS-0875
Scandinavian Quality Inc. 2 Woodchip Bag (SKU: MSS-0875)

You might also like...