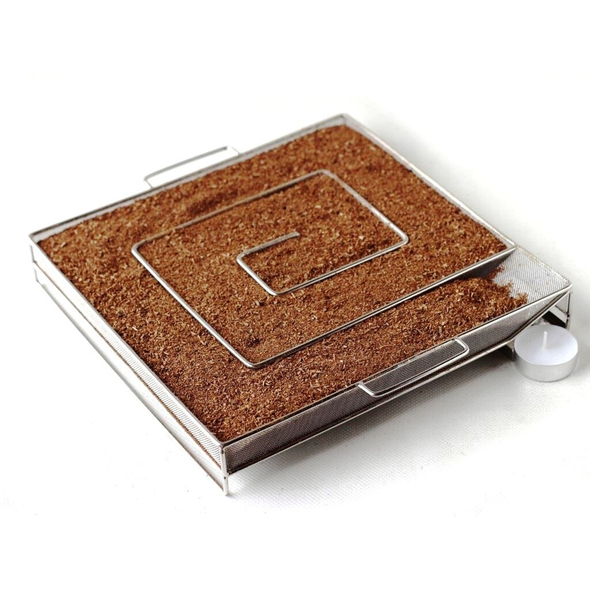 Click image to enlarge
The patented ProQ® Cold Smoke Generator is a great little gadget that makes cold smoking easy to do and affordable. Released in 2010 it is now used by top chefs, fishermen, hunters and "foodies" around the world to add a wonderful smoky flavour to foods such as fish (Salmon, Haddock, Kippers, etc), bacon, hams, eggs, cheeses, beef, venison, salami, butter, salt and nuts.
The ProQ Cold Smoke Generator is designed to produce smoke for up to 10 hours, using ProQ smoking wood dust which is of a high quality and sourced from sustainable forests (other brands of dust may not produce the same results).
Customers say that it works fantastically in their Bradley Electric Smokers, Weber Smoky Mountains (WSM), Brinkmann Smoke n Grills, in fact It can be used in just about all existing BBQ's, (even kettles provided they have a lid), Food Smokers, or any suitable container, such as an old metal filing cabinet, or fridge. Please be aware, that although the unit is a cold smoke generator, it does have a small area of very hot smouldering dust, so bear this in mind when choosing a container. Traditionally, food was smoked to aid in the curing process (this was before we had refrigerators) nowadays smoke is predominantly used to add flavour. Some cold smoked products can be eaten without having to be cooked, whilst others, such as bacon, will need to be cooked prior to consumption.
Produces clean, cool smoke for up to 10 hours

Will work in most existing BBQ's, smokers, in fact just about any container

The most cost effective cold smoking method, 100g of wood dust smokes for up to 10 hrs

Made from high grade Stainless Steel

150 x 180 x 40mm

Weighs just 250g

Patent – GB2471296
The ProQ Cold Smoke Generator is covered by a 12 month warranty, but by following the simple instructions , should give years of trouble free use.
Be The First To Review This Product!
Help other The BBQ Store Pty Ltd users shop smarter by writing reviews for products you have purchased.

ProQ Cold Smoke Generator
Up to 10 hours of Cold Smoke
You might also like...