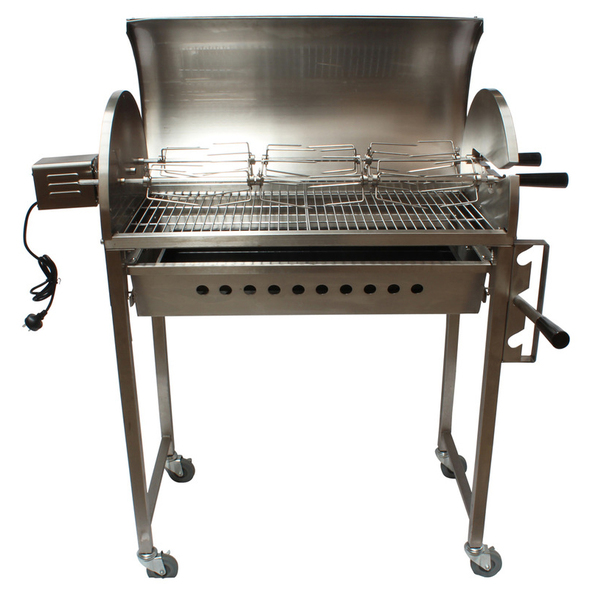 Click image to enlarge
The Chicken Rotisserie BBQ is great if you love cooking your own charcoal chicken or even large cuts of meat. It has a sleek steel design, and provides ample amounts of space for your cooking needs. The spit includes a 30kg motor enabling you to load it up with a massive amount of your favourite meats. It has a large basin to fit all of your charcoal, providing maximum cooking heat. The included Skewers and Prongs make putting your chicken on the BBQ a breeze, and with the included grill, the selection of meats that can be cooked on this BBQ are endless. The new and improved design features holes in the basin for better airflow, and the frame is sturdier due to the leg brackets. Another new feature is the ability to raise or lower the charcoal basin for your choice of heat. Come in today to get the Chicken Rotisserie BBQ and begin making memories with your family.
Please note that pick up in Sydney is available from:
Unit 6/12 Lyn Parade, Prestons 2170 (near Liverpool)
Enquiries please call: 1300 880 685 or (02) 9608 0802
304 grade Stainless steel tub and frame, 1.2mm thick

10 vents per side

2 Cooking Grills (so you can cook steaks and sausages.. etc)

2 S/Steel Skewers

12 Chicken prongs/ forks (Can cook up to 6 chicken at a time) 3 sets per skewer

1 Powder coated charcoal pan

1 Stainless Steel Motor that can turn up to 30kgs of meat at a time (240V Electric, 2.7 RPM)

Split Full Lid Doubles as a wind shield

12 month warranty

Height adjustable Charcoal Pan
810mm width x 450mm depth x 850 Height (BBQ Tub)

Overall Height to Spit Lid : 1110mm, Skewer 760mm

30kgs approx weight
Average Customer Rating For S/S Chicken BBQ Rotisserie Charcoal Spit w/ 30kg Motor - cook up to 6 chickens at once - CRB-3064:

Click here to write a product review!
Love it
Delivery time for receiving product was exceptional! The assembly instructions could do with being a bit more detailed but we put it together fairly quickly. Love that it is all stainless steel & easy to keep clean - very important as I hate greasy dirty BBQ's. Really easy to use . Get for family & friend get togethers as who doesn't love a roast!!

Rating:

Best Charcoal BBQ around
Very good BBQ unit. Excellent quality and thickness stainless build. Maybe a good idea to offer the same just as a BBQ unit and no rotisserie. That's what I was looking for initially, but for the money this was the best available by far. Could do with a storage shelf/cabinet in the bottom section (a little bit of wasted space). The instructions could be clearer. It took a little longer to figure out how the adjusting mechanism is put together, as the pictures are small and instructions not very concise in that area. Overall a very good unit which could have some improvement and should be offered in a couple of different variations as mentioned above, at accordingly adjusted costs,

Rating:

---
S/S Chicken BBQ Rotisserie Charcoal Spit w/ 30kg Motor - cook up to 6 chickens at once - CRB-3064
Stainless Steel BBQ Plus 30kg Motor - (SKU: CRB-3064)

You might also like...