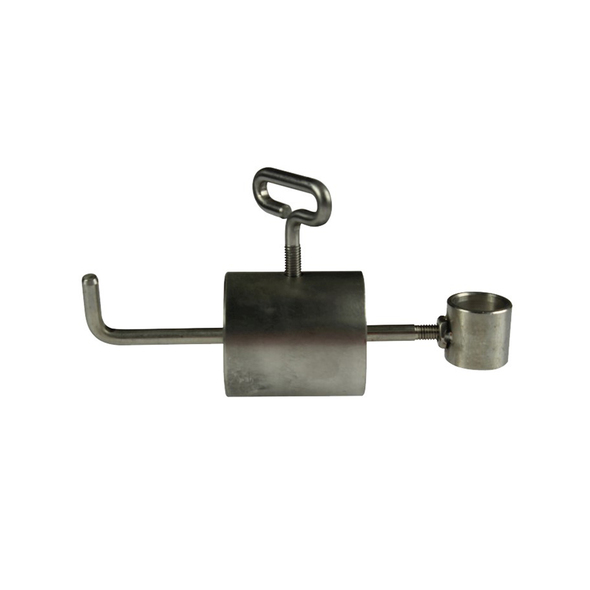 Click image to enlarge
The round counter balance is a uniquely designed device that is designed to help with extending the life of your grill barbecue spit motor when it is used for cooking unbalanced meats on a rotisserie spit. This round counter balance works by adding a counter weight that enables for easy balancing of the spit and load when cooking goats, pigs, and lambs. Constructed with stainless steel material, this counter balance is ideally suited for 22mm round skewers to ensure that it is highly compatible when cooking, and offers high strength for resistance against heat and flames when being turned by the rotisserie. Designed to offer a simple installation, this grill barbecue rotisserie spit counter balance can be used and setup in a quick manner, and allows for your spit roasting to be evenly cooked without causing damage, strain, or wear and tear on your motor.

Many other option available: Motors, skewers, prongs, back braces, gyro discs, leg brackets, and side pillars to suit. Please contact us for more details.

Please note that pick up in Sydney is available from:
Unit 6/12 Lyn Parade, Prestons 2170 (near Liverpool)
Enquiries please call: 1300 880 685 or (02) 9608 0802
Made of a quality stainlesss steel material

Round Tube Fitting - Square fitting also available (CB-3078)

Suits a 22mm round skewer

12 months warranty
Average Customer Rating For S/S Round Counter Balance/weight for BBQ Rotisserie spit - 22mm Diameter - CB-3077:

Click here to write a product review!
bbq weight
our experience with this store was great they were helpful in what we needed and answered all our questions thankyou

Rating:

Stainless Steel Counter Balance
This item is cheaper than many others on the market and it is high quality with all parts made of stainless steel. The weight is not mentioned in the description so I took a punt that it would be heavy enough ... it is! The sliding weight is 58mm diameter x 63mm long and weighs 1.33kG. All up weight is just over 1.5kG. This will balance all loads from a few kilos up to anything the average person is likely to roast. The total length of movement on the shaft is 115mm and I have calculated that it will offer balance compensation ranging from approx. 13 - 48 cm Kg (6 - 19 inch pounds). A weight like this is essential to minimise excessive wear on the spit drive gearing caused by an out of balance load.

Rating:

---
S/S Round Counter Balance/weight for BBQ Rotisserie spit - 22mm Diameter - CB-3077
Prolong the Life of Your Motor - (SKU: CB-3077)

You might also like...