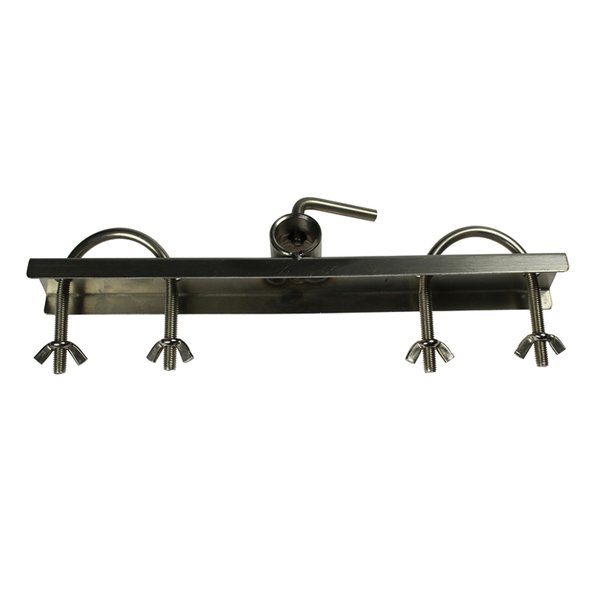 Click image to enlarge
The Leg Bracket is a useful tool when looking to cook whole animals by locking the animal legs to the skewer bar.

Featuring a high quality construction of stainless steel, this leg bracket is designed to help assist with the attachment of the legs to the designated skewers to ensure the animal is well secured to reduce free spinning and to promote even balance when rotating.

Featuring a lightweight design, this grill barbecue leg bracket is able to provide a fast setup and attachment process that allows for the animal to be cooking in a faster amount of time, and is ideal for use when looking to cook animals that may include goats, pigs, and lambs on your rotisserie spit.

This leg bracket is suitable for use for long periods of cooking, and can offer easy cleaning when needed before and after each type of animal or cooking session.


Please note that pick up in Sydney is available from:
Unit 6/12 Lyn Parade, Prestons 2170 (near Liverpool)
Enquiries please call: 1300 880 685 or (02) 9608 0802
Made from Quality Stainless Steel

This leg bracket is also ideal for suiting round skewers that are 22mm's in diameter.

Use in conjuction with the Back Brace (LBB-3080)
12 months warranty

The Leg Bracket is:
29.5cm Long
4cm Wide
1.5cm Heigh

The U Shape Bolts that lock the legs in are:
9cm Long
5cm Wide (in between U)
5cm Long Thread on U Bolt
Average Customer Rating For S/S Round Leg Bracket for BBQ Spit Rotisserie - suits 22 mm round skewer - LBB-3078:

Click here to write a product review!
Bracket Works Well
The bracket is spaced perfectly for the legs of a 20-24kg lamb.

Rating:

---
S/S Round Leg Bracket for BBQ Spit Rotisserie - suits 22 mm round skewer - LBB-3078
Secure a Whole Lamb or Pig To The Skewer

You might also like...