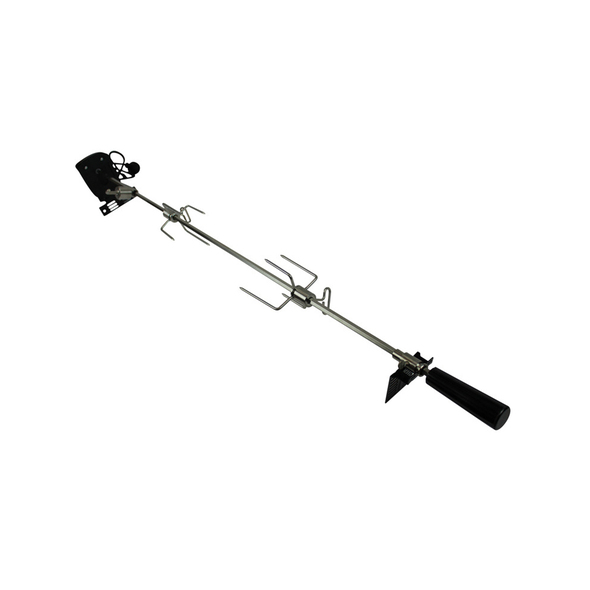 Click image to enlarge
This Rotisserie Kit is user friendly and high quality which is designed to provide high compatibility for a rotisserie barbecue. This rotisserie kit comes with a solid stainless steel skewer length of 970mm and a set of four pronged forks which makes it easy to hold large cuts of meat for cooking on the rotisserie. Great for cooking large items such as lamb, chicken, pork, etc. It designed to suit Gas BBQ up to 835mm from end to end. With it's 240V motor which can turn up to 10kg of meat, enabling you to host a number of your family and friends.


This Rotisserie kit comes with:
One Piece Stainless Steel Skewer (does not unscrew like the competition)

1 Stainless Steel Counter Balance weight (for balancing meat)

1 Set of Stainless Steel Four Prong Forks

Motor Mounting Brackets & Bolt Pack

240V Motor - 10kg Capacity of balanced meat
Please note that pick up in Sydney is available from:
Unit 6/12 Lyn Parade, Prestons 2170 (near Liverpool)
Enquiries please call: 1300 880 685 or (02) 9608 0802
Sutable for most Gas BBQ's. (check measurement of mounting bracket 835mm)

All the Skewer, Counter Balance and the Prongs made of Solid Stainless Steel.

240V Motor with 10kgs meat capacity.

12 months warranty.
The Length of the Solid Stainless Steel Skewer is 970 long and 10mm Hexagonal in Diameter

Bracket to Bracket Measurement is 835mm.

Brackets are Black Metal Finish.

Motor turns at 2 RPM
Be The First To Review This Product!
Help other The BBQ Store Pty Ltd users shop smarter by writing reviews for products you have purchased.
The BBQ Store 970mm Rotisserie Kit - 1pc Solid Skewer Shaft - BSK-870
835mm From Bracket to Bracket
You might also like...