Click image to enlarge
myGRILL SLIM Medium - Ultimate Package
Model No.: S2111-15
SKU: 950015-03002111
Following the modern tendencies of architecture, we have created a grill interwoven with practicality, simplicity and elegance.
The myGRILL SLIM™ is ideal for those who prefer something modern at their barbecue space. Made entirely of stainless steel, with an insulated base that can be embedded into your countertop, it promises to serve you forever.
Rotisserie System
A uniform roasting is the secret for delicious results.
The specially designed rotisserie system with chain rotates the skewers with uniform speed. Roasting is done slowly and steadily, keeping the meat juicy and soft.
Elevation Mechanism
Innovative manual elevation mechanism for height adjustment between the meat and the charcoals. The height can be adjusted from 0-13 cm.
Adjust the height of the skewers very easily even while roasting , depending on the type of meat and the size of the pieces or the amount of charcoal you have available.
Powered by ATLAS
Lots of power in a small package
Inside the myGRILL ATLAS™ is a strong 12V DC Motor with a torque of 20kgf.cm. With its small size (only 10x8x4 cm) it can be easily be placed on all myGRILL models.
Adjustable Speed 0-42rpm
You can precisely adjust the skewer rotation speed from 0-42rpm just by turning the knob located on the side.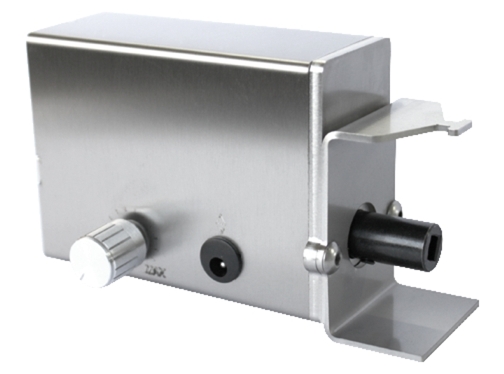 42rpm Adjustable Speed 0-42rpm
20kgf.cm of Torque
12V DC Switched-mode Power Supply
Insulated base for BBQ Island
Controlled Expansion-Contraction
The base consists of two separated bowls - the outside and the inside. The inside bowl, that has direct contact with charcoal, has the ability to expand and contract without deforming its shape.
Insulation
The base is made from a double layer stainless steel sheet with integrated ceramic fiber.
The technology used for the myGRILL SlimTM base significantly reduces heat loss to only 10% comparing to other charcoal grills with no insulation. Cooking temperatures can be obtained with much less charcoal, thus saving charcoal per firing.
MyGRILL = 10% Heat Loss
Other Charcoal Grills = 90% Heat Loss
Double Layered Base
The base is made of double layer stainless steel sheet with integrated ceramic fiber.
The ceramic fiber insulation inside the myGRILL SlimTM exhibit high temperature stability for continuous use at temperatures up to 1200OC (2192OF). In conjunction with the full metal base, almost all thermal energy produced by the charcoals is emitted for cooking.
For those who prefer grilling only on grates
If you love grilling on grates because of the flavor it gives to meat, vegetables, and seafood or if you are obsessed over getting those perfect grill marks, myGRILL SlimTM base with full stainless steel grates suits for you.
Stainless Steel Grates
Made of stainless steel, available in fixed dimensions 44x20cm in order to fit perfectly in the bowl of your barbecue.
Place the ergonomically designed grates partially or entirely along the base and enjoy burgers, fish and other grilled items.
High Quality
We oversee all production processes within our facilities, without outsourcing any activity. Applying this philosophy, gives the company full control regarding the quality of materials, which we aim to maintain to the highest levels.
Please note that pick up in Sydney is available from:
Unit 6/12 Lyn Parade, Prestons 2170 (near Liverpool)
Enquiries please call: 1300 880 685 or (02) 9608 0802
Packing List:
myGRILL SLIM MEDIUM - Ultimate Package
10 X Stainless Steel 4mm Skewers

5 X Stainless Steel 6mm Skewers

1 X Stainless Steel Roasting Rack

1 X Stainless Steel Rotating Rack (Basket)

1 X Stainless Steel Ash Shovel

1 X Stainless Steel Charcoal Tongs

1 X Stainless Steel Charcoal Chimney Starter

1 X Instant-Read Thermometer

1 X myGRlLL Long lasting Cylindrical Firefighters
Be The First To Review This Product!
Help other The BBQ Store Pty Ltd users shop smarter by writing reviews for products you have purchased.

myGRILL SLIM Medium - Ultimate Package - SKU: 950015-03002111
Slim and Slick!
You might also like...