Gas Smokers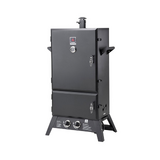 Hark Big Boss Gas Smoker - HK0535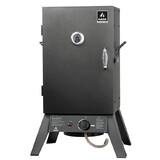 Hark Patio Gas Smoker - HK0528
High Quality Gas Smokers in Australia for Convenient Outdoor Cooking
Gas smokers are one of the most popular and versatile outdoor cooking appliances available in the market today. They offer a convenient and easy way to smoke meat, fish, and vegetables without the hassle of traditional charcoal smokers. Gas smokers use propane as fuel, providing a constant and reliable source of heat.
With a gas smoker, you don't have to spend hours tending to a fire or worrying about keeping the temperature just right. Instead, you can simply set the temperature and let the smoker do the rest, allowing you to focus on other things, like preparing sides or spending time with your guests.
At The BBQ Store, we understand the importance of high-quality gas smokers that can withstand the test of time. That's why we only stock the best brands that provide you with the best smoking experience.
Types of Gas Smokers
There are several types of gas smokers available on the market today, each with its unique features and benefits. Here are a few:
Cabinet Gas Smokers - These are the most common type of gas smokers and come in various sizes, from compact to large. They feature a vertical design, with multiple shelves for cooking different meats simultaneously.
Offset Gas Smokers - These gas smokers have a horizontal design, with the cooking chamber separate from the heat source. This design allows for indirect heat cooking, making it ideal for smoking larger cuts of meat or can be used as a grill.
Portable Gas Smokers - These are smaller, more compact gas smokers, perfect for outdoor adventures like camping, picnics, and tailgating parties.
Why Choose a Gas Smoker?
Convenience and Ease of Use
Gas smokers are incredibly easy to use, making them an excellent choice for those who want to cook delicious smoked meats without the hassle of traditional wood or charcoal smokers. All you need to do is set the temperature and let the smoker do the rest.
Consistency
One of the biggest challenges of smoking meat is maintaining a consistent temperature throughout the cooking process. With a gas smoker, you can set the temperature to the exact degree you want, ensuring that your meat cooks evenly every time.
Speed
Gas smokers are also faster than traditional smokers. They heat up quickly and maintain a consistent temperature, allowing you to cook your meat faster than you would with a wood or charcoal smoker.
Versatility
Gas smokers can be used to smoke a wide range of meats, including beef, pork, chicken, and fish. They're also great for smoking vegetables, cheese, and even nuts.
Shop The Best Gas Smokers Online at The BBQ Store
If you're looking for a gas smoker that will help you create mouth-watering, tender, and juicy meats, look no further than The BBQ Store. With our wide selection of top-quality gas smokers from Hark, Cobb Premier, and other leading brands, you're sure to find the perfect smoker to meet your needs. So why wait? Browse our selection today and start taking your barbecue game to the next level!