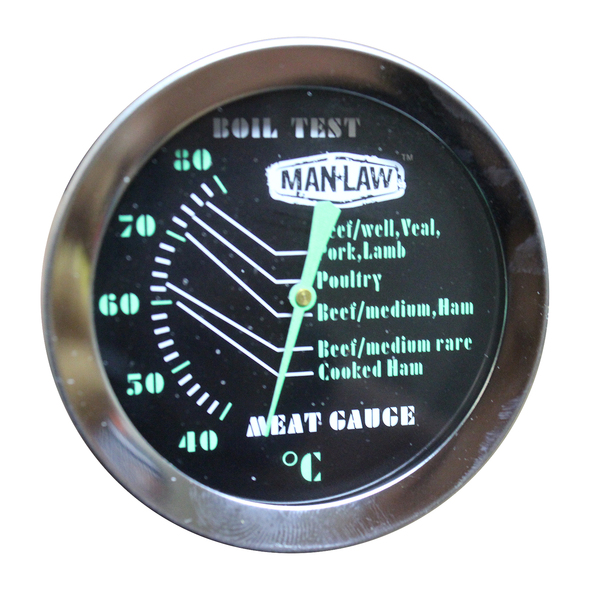 Click image to enlarge
MAN LAW #2: Cutting meat to check for doneness is like sawing down a tree to find it's age

Steaks, hamburgers, and sausages are cooked on the open grill which can be advantage for the chef. It's a little easier to tell when they are ready (especially if you have a useful range of grill gadgets from MAN LAW). The master of the grill may however, feel a little trepidation when it comes to roasting meat on the BBQ. Different types of meat are cooked at different core temperatures. When a man has to deal with all the finer points of a BBQ - things like the temperature and quantity of the beer, or the need to instantly and totally recall the previous weekend's game to win an argument - the temperature of the roast is not necessarily front of mind. The problem is, you need to know for sure when the meat is cooked and you can't cut it to check it (see MAN LAW #2, above).

This is where MAN LAW can help - by doing the thinking and monitoring for you. The Dial-Type Meat Thermometer for roasts covers a full range of meat from beef and pork to lamb, poultry and cooked ham. Push the probe into the meat and leave it in while you roast the meat. A quick glance will tell you when your meat is ready as the core temperatures for the various meats are clearly marked on the dial. The thermometer is made from tough stainless steel; it's dishwasher safe and it has a large glow-in-the-dark dial for easy reading.

So while MAN LAW can't help with total recall of a game, and you will have to take care of your own beer, we can help you produce a really impressive BBQ roast.

Dial-Type Meat Thermometer: MAN-T720CBBQ




Please note that pick up in Sydney is available from:
Unit 6/12 Lyn Parade, Prestons 2170 (near Liverpool)
Enquiries please call: 1300 880 685 or (02) 9608 0802
Be The First To Review This Product!
Help other The BBQ Store Pty Ltd users shop smarter by writing reviews for products you have purchased.
Man Law Meat Gauge Thermometer with Glow Dial - Range 40 to 80 Degrees Celsius
Man Law Meat Gauge with Glow Dial (SKU: MAN-T720CBBQ)
You might also like...