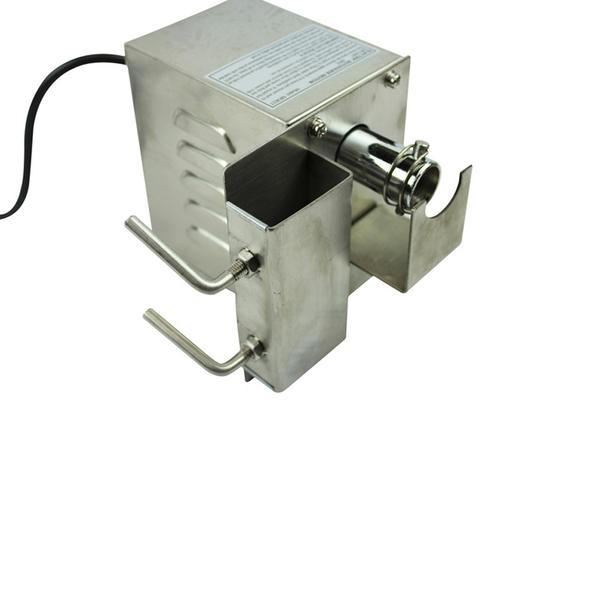 Click image to enlarge
This Standard Rotisserie Motor is designed to promote a high turning capacity that allows for the easy rotation of balanced meats including lamb, chicken, beef, fish, pig, and goat that weighs up to 25kgs in size. Featuring a stainless steel construction, this rotisserie BBQ spit motor is able to promote long term use where long cooking sessions may be required, and is designed to offer high strength to withstand lengthy periods of running next to a heated source. With its high powered operation, this grill barbecue spit motor is able to rotate the meat approximately 5 revolutions per minute to ensure the meat is evenly cooked to perfection so that it is ready to serve to guests.

Built for long lasting operation, this stainless steel motor is ideal for most demanding cooking sessions, and can provide high powered operation each and every time to ensure the spit is rotated at an even pace to ensure the meat is always cooked on time.

Please note that pick up in Sydney is available from:
Unit 6/12 Lyn Parade, Prestons 2170 (near Liverpool)
Enquiries please call: 1300 880 685 or (02) 9608 0802
240V Direct Drive Rotisserie Motor
Strong Stainless Steel Casing
An In-built cooling fan.
This Motor turns at Approx 5RPM
Suits a 22mm round Skewer.We also stock many suitableS/S skewers to suit this motor.
This Motor has beenfactory tested to turn up to 25kgs of well balanced meat
12 months warranty
Average Customer Rating For S/S 25kg Capacity Rotisserie/BBQ Spit Motor to suit 22mm Round Skewer Rod - ERM-3075:

Click here to write a product review!
unreal
only used it 3 times and seems to work great good value for money

Rating:

Craig in QLD
Good quality, comes with locking pin so the spear cant come out and runs like a beauty

Rating:

---
S/S 25kg Capacity Rotisserie/BBQ Spit Motor to suit 22mm Round Skewer Rod - ERM-3075
5RPM & 25kg Capacity!!!!

You might also like...