Looftlighter - Electric Firestarter - 10439
Buy Now and you will get
$2.98
off your next purchase (
T&C's Apply
)
Australian Family Business


Based in Sydney

Fast Delivery


Direct form our warehouse

Expert Advice


30 years BBQ experience

100% Satisfaction Guarantee


We've got you covered
WHAT IS THE LOOFTLIGHTER?
The original Looftlighter is the fastest, safest and cleanest charcoal and fire starter in the world. It lights charcoal, briquettes and wood in 60 seconds without any dangerous chemicals. The Looftlighter is the fastest lighter in the world. There's no flame and no gas, just superheated air that both ignites your charcoal and also cuts the time it takes until you can start cooking!
Fast
The Looftlighter is the fastest way in the world to start your charcoal grill, fireplace or even pizza oven. After only 60 seconds you will see the fire ignite! At his point, you can either leave the charcoal or wood to get ready on its own, or speed the process by continuing to point the airstream of the Looftlighter towards the same spot. The fire will be ready in minutes.
Safe
No flame, no gas, no chemicals. The Looftlighter only uses super heated air. It also has a safety casing that cools to the touch within seconds after use
Eco-friendly
All around the world, people use tons and tons of chemicals every day to get their fires started. The Looftlighter puts an end to this. Now you use ONLY super heated clean air to do the job instead. No more CO2 emissions, no more hazardous stinking chemicals, no more bad tasting food.
Indoor and outdoor
You can use your Looftlighter all year around. If you're not one of those people who barbecues in the winter, bring the Looftlighter inside and fire up your chimney, fireplace or hearth fire, in just 60 seconds.
Perfect functionality, Delightful details
Our design team created the Looftlighter with the perfect barbecue experience in mind. The focus on functionality and simplicity along with material treatment and form have now set the trend on how electric fire starters looks and operate. The Looftlighter is the first product to use this technique as a fire starter. The stand and hook as an integrated bottle-opener which is just one detail that make our product a pleasure to use. We are proud to be the original! We are looking to make your grilling experience the best and what's better than opening a cold one beside your grill?
How it works: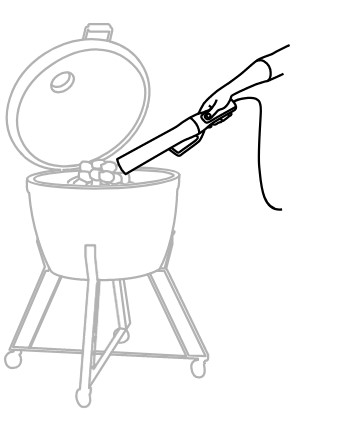 Touch
Make a pile of charcoal and touch it with the tip of the Looftlighter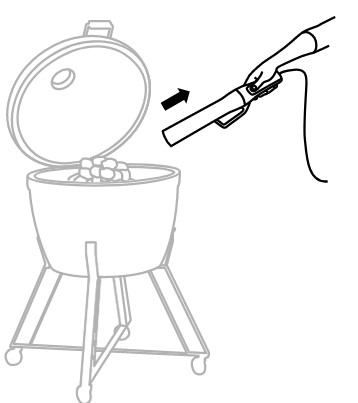 Pull backwards
Pull back the Looftlighter a few inches when sparks or glow appear. This will help the heat to spread throughout the charcoal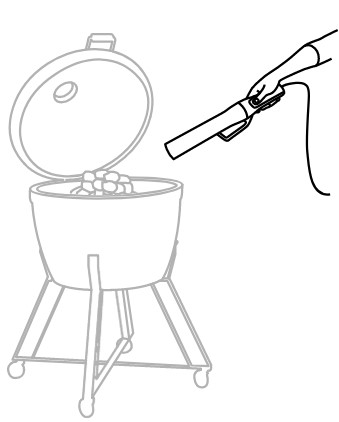 Continue
Continue aiming the Looftlighter towards the same spot for at least 60 seconds.
(10439)
Size:
Length – 45 cm
Width – 6.6 cm
Depth – 6.6 cm
Weight:
880 g
Power:
1500 Watt
240 V
13 Amp

Be The First To Review This Product!
Help other The BBQ Store Pty Ltd users shop smarter by writing reviews for products you have purchased.