Do you know what to look out for when buying a spit roast?
Meat roast on the barbecue is great for easy, fuss-free summer cooking. Barbecue roast meat, cooked on the spit roast or on the grill by indirect heat, is perfect for backyard entertainment. Here are some points to consider when buying a spit roast for sale.
Spit roasting or rotisserie, is a style of roasting where meat is skewered on a spit. A spit is a long solid rod that is used to hold meat or food while it is being cooked over a fire. Spit roasting is usually carried out at a medium to low heat in a fireplace or over a campfire, or roasted in an oven. Fatty and cylindrically shaped animals such as pigs, goats, chickens and lambs are ideal for spit roasting. Vegetables like onions and cabbages can be roasted too.
A spit roast is a simple mechanism, with a few standard parts like the spit, or rod, on which to skewer the meat and two multi-pronged forks to secure each piece of meat. A motor turns the spit at an even rate during cooking. Counter weights are used to accommodate an uneven distribution of weight.
Spit roasts are a great way to easily cater for a large number of guests. You can cook for up to 200 people with the right size spit roast. Meat cooked over a spit roast is more delicious as the slow rotation of the meat on the spit helps the caramelisation of the meat protein.
What to consider when buying a roast spit
Gas spit roasts are easier to light, operate and control the temperature during roasting. With charcoal smokers, the meat absorbs the fire and smoke as it cooks, giving a smoky, authentic flavour. When buying a spit roast, it is important to consider the size/length of your spit roaster. Think about your needs and the number of people you will be catering for to help guide your decision.
If you do not have enough space in your room, and only plan on cooking for a small number of people, a portable spit roast will do. For cooking a whole lamb or pig, the minimum length you should purchase is 1200mm. For large functions, a full size spit roast is perfect. You can also consider is an extendable spit roaster which expands and contracts in length to suit your needs.
You also need to consider how many kilos of meat you want to cook, when buying a spit roast. A great choice for campers without access to a main power source are 12v motors. A 240v motor is an option for most roast spit users having a spit roast at home.
Looking for a spit roast to buy?
Contact The BBQ Store, Australia's largest online BBQ and rotisserie specialists, offering an extensive range of leading brands and competitively priced BBQs, pizza ovens, outdoor kitchens, smokers, patio heaters, BBQ accessories and more.
BBQ SPIT ROTISSERIE MODELS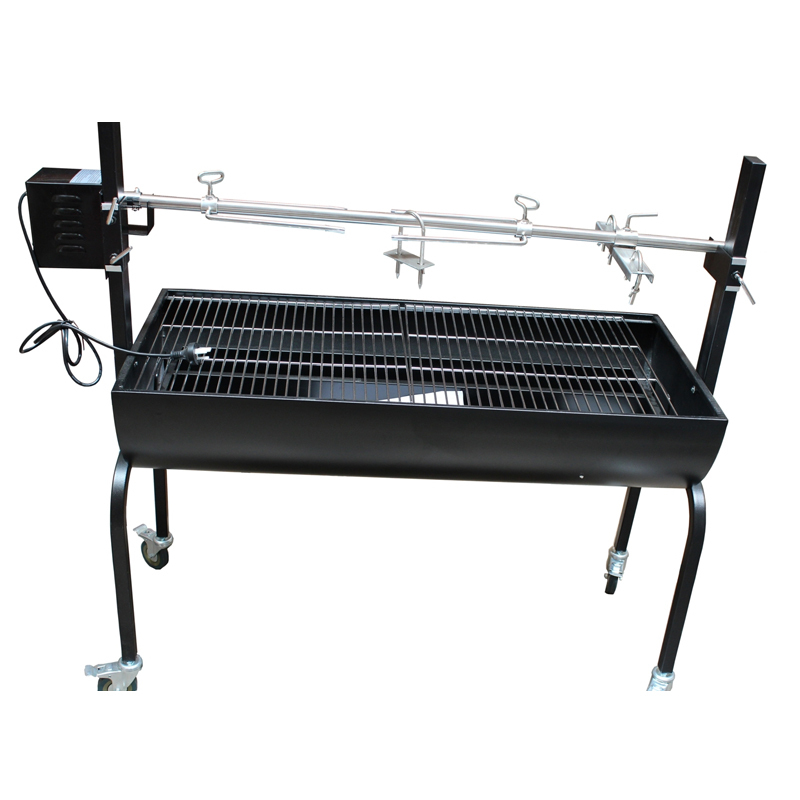 Black Barrel Rotisserie Spit Roast BBQ with 25kg Motor
The Black Barrell Charcoal Rotisserie BBQ Spit is a convenient cooking solution that is capable of cooking up to 25kgs of food at any one time, allowing you to cook for small or large gatherings.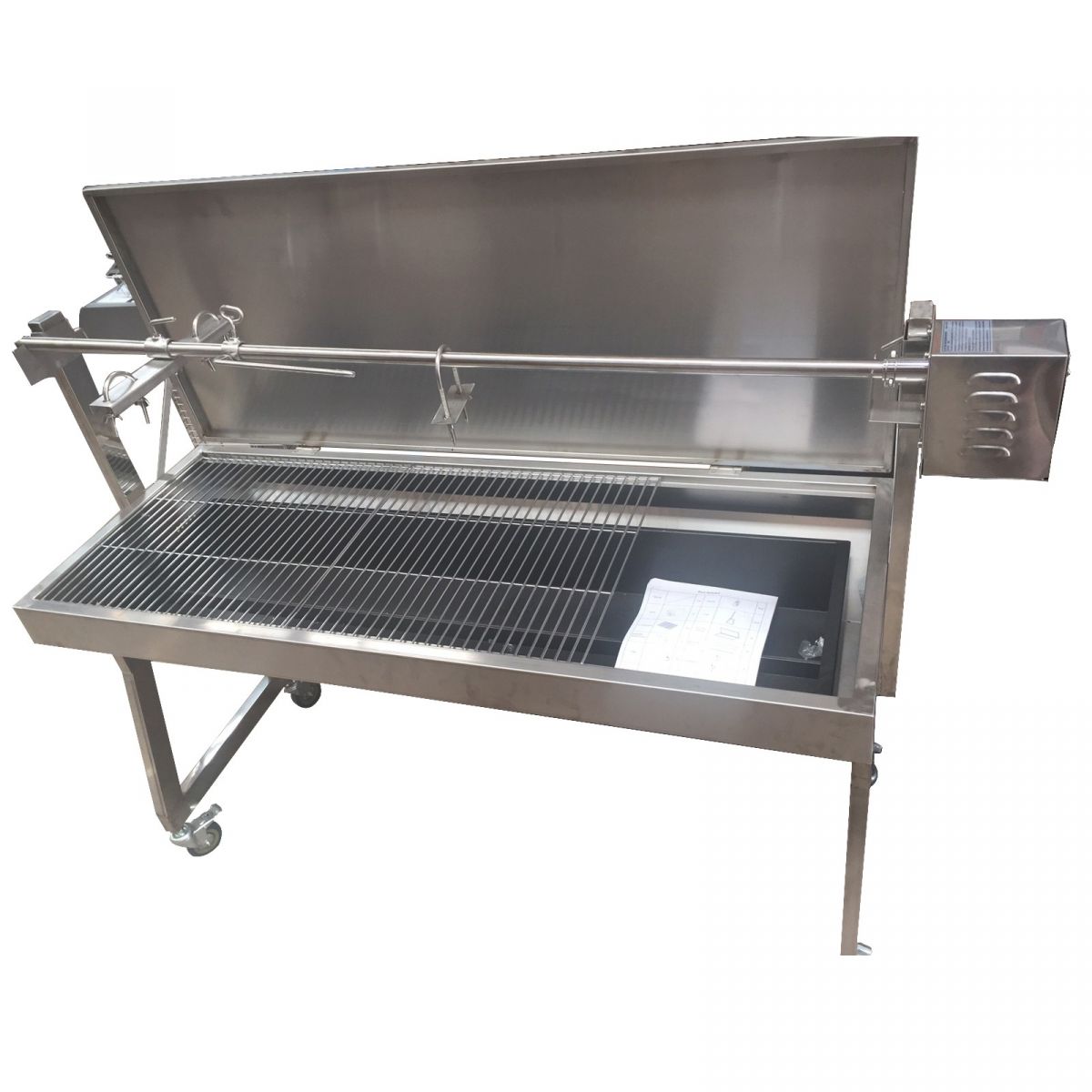 A Frame Stainless Steel Charcoal Rotisserie BBQ Spit (1.3mtr) with 25kgs capacity Motor
The A Frame 1.3m Stainless Steel BBQ Spit is a very capable BBQ spit, and now comes with a more powerful motor. It is capable of cooking up to 25kgs of food at any one time, and this will help you with entertaining a large number of people..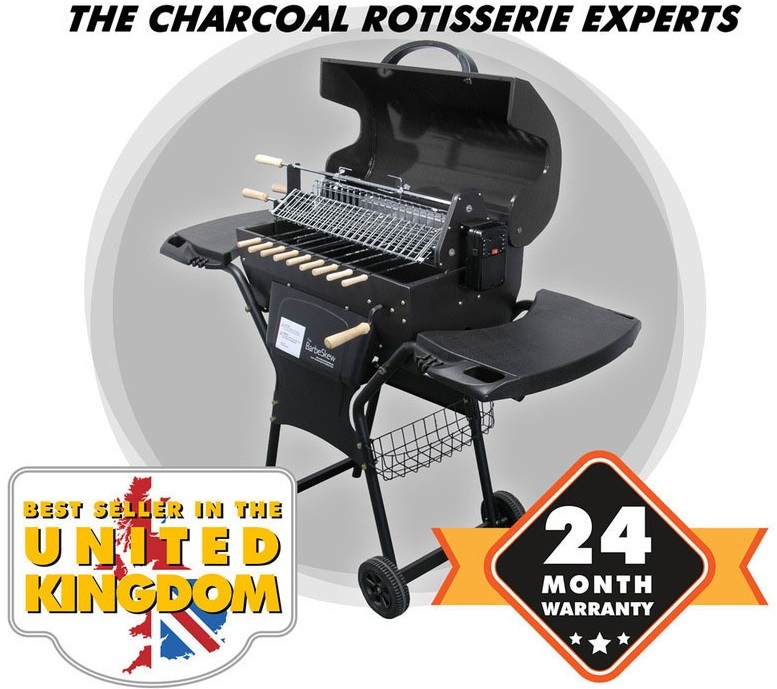 BarbeSkew - The Evolution of Charcoal Rotisseries Spit Roast
The Barbeskew Classic is a hands free rotisserie barbecue which comes complete with full length grill and warming rack to also enable you to use as a conventional BBQ.
---
Leave a comment